Wisdom from Strength-Based Working
Wisdom from Strength-Based Working
Wisdom from Strength-Based Working
As part of its PTS Frontline Network activities, Mayday Trust captured experiences of those who take a strength-based approach to working alongside people experiencing tough times, such as homelessness. This Wisdoms is part of a suite of Wisdoms where the voices of people who either experience or deliver services are captured and shared.
Frontline workers were offered a variety of platforms to share their voices, including group Zoom conversations, individual conversations, WhatsApp messages, email, and social media. Conversations took place with people from across the UK during COVID-19 restrictions, so face to face meetings were not possible. It was agreed that all the contributions would be anonymised when used in this listening exercise.
Mayday Trust used their approach of deeply listening through 'Wisdoms', which poses just one open question and listens to what each person wants to bring to the conversation.
A total of 66 people contributed to Wisdom from Strength-based Working, all of whom were directly delivering strength-based work, and some of whom had lived experience of homelessness or other tough times. The conversations and comments were initiated with the question – What is your experience of delivering strength-based work? 
Click the image below to view the report which captures the main themes which were identified from what was heard.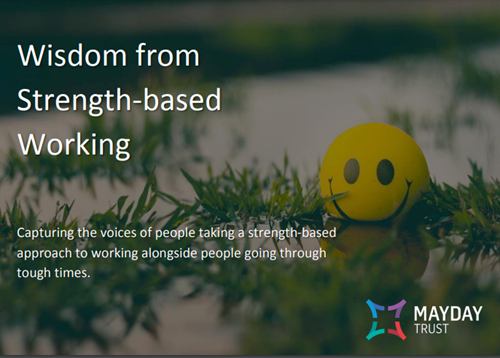 For context please also see Mayday Trust's previous Wisdoms work: Wisdoms from the Pandemic, Wisdoms from Behind Closed Doors, and Wisdoms from the Street.