VRF Help Page
VRF Help Page
Here you will find instructions and information about the various stages of the grant application process, which are grouped by each of the stages shown in the flowchart below: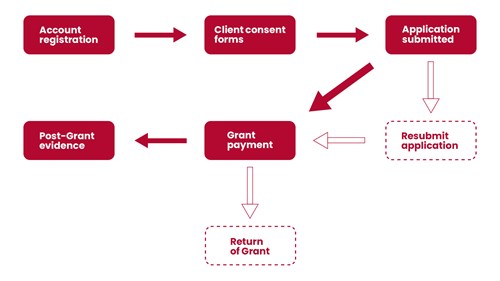 Registration and Account Request
Please read through our Application Portal Terms & Conditions before registering for an account.
Watch this video to find out how to register an account with Flexi-Grant:
Client consent / Consent Forms
Watch this video for information on client consent and how to fill out consent forms:
Please click here for the Written Consent Form.
Please click here for tips on how to complete the Consent Form to avoid your application being returned to you.
Applying for a Grant
Before applying for a grant:
Please read through our Grant Making Policy .
Please see the Application Evidence document for details of what evidence you need to include in your application, and the formats we can accept.

Please make sure you have the following:

A completed and signed Consent Form

The correct type of evidence

Information about your client, their accommodation / circumstances and their need for the grant
Watch this step-by-step video of how to apply for a VRF Grant:
Resubmitting a Grant Application
If you don't provide all the information we need to assess your grant application (or if we have any questions), we'll return it to you and ask you to resubmit it with the outstanding information or evidence.
Watch this video for how to resubmit a Grant Application:
Returning Grant Funds
Log in to the Application Portal for instructions on how to return unused funds, and the relevant bank details.
Post-Grant Evidence
For every successful grant application, we need evidence of how the grant funds were spent. You'll need to provide this within 6 weeks of the grant being awarded. 
Please see Post-Grant Evidence information for details of what evidence you'll need to provide, and the formats we can accept.
Watch this video for how to submit Post-Grant Evidence:
For information about our grants; how much we can consider, our criteria, etc go here: Vicars Relief Fund
For FAQs about the VRF, go here: VRF FAQs