Winston Churchill Memorial Trust Travelling Fellowships
Winston Churchill Memorial Trust Travelling Fellowships
Winston Churchill Memorial Trust Travelling Fellowships
The Winston Churchill Memorial Trust are offering funded Travelling Fellowships to individuals working in the housing sector who are passionate about making a difference in their field.
Each year we fund up to 150 Fellowships across a wide range of categories, enabling UK citizens to investigate inspiring practice in other countries, and return with innovative ideas for the benefit of people across the UK.
Grants cover economy return flights, internal travel within destination countries, insurance, food and accommodation.
As part of our partnership with the National Housing Federation, we are inviting applications under the category of "New Approaches to Social and Affordable Housing". We would particularly welcome proposals which seek to:
• improve the housing provision, design and opportunities for those excluded from the housing market
• provide safer and healthier communities
• increase community participation, design, standards, tenure options, financing for all those facing homelessness, including older people and those with complex needs
• move towards zero carbon housing solutions
Applicants should consider the subsequent changes required to legislation, planning regulations and financial models for the success of their project. We are interested in hearing from all areas of the sector, from grassroots organisations to policy makers.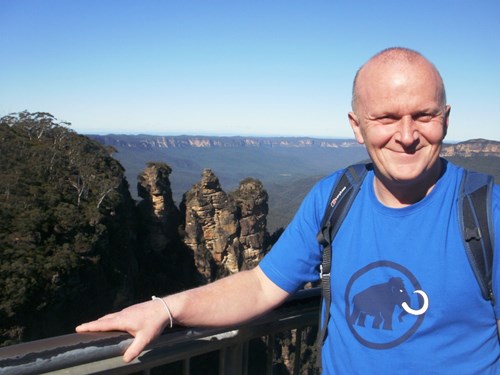 Matthew Bower pictured above
Matthew Bower, a senior outreach worker from South Shields, was awarded a Fellowship in 2013 to travel to Australia to investigate alternative approaches to supporting people with multiple, complex needs among homeless populations. He said of his Fellowship:
"I wanted to examine alternative pathways into accommodation, recovery and maintaining abstinence, and consider how this could be incorporated into service delivery back in the UK. I visited many statutory and third sector organisations in Sydney, and observed sex worker outreach projects, safe injecting centres and various housing projects across the city. Since returning to the UK, I have completed a BA Honours in Counselling and established my own private practice, Touching Base Counselling North East. The Fellowship has had a huge influence on me and helped me to believe that anything is possible in life."
John Cassap pictured above right
John Cassap, an outreach support worker from Sunderland, was awarded a Fellowship in 2015 to travel to the USA to explore new and alternative ways of addressing homelessness. He said of his Fellowship:
"I visited professionals who had been working on the frontline following Hurricane Katrina, which led to a huge increase in homelessness, and observed how services had been adapted in response. I also explored how new approaches were delivered to veterans and those involved with the criminal justice system. The learning from my Fellowship has informed a successful funding bid based on a "Housing First" approach and has been instructive for my colleagues delivering services specifically for veterans. The Fellowship enriched my growth both personally and as a frontline worker. I'd highly recommend it to anybody with a passion for their field."
For more information on the Travelling Fellowships, or to apply, visit the Winston Churchill Memorial Trust website. All UK citizens resident in the UK aged 18 and over are eligible to apply. No qualifications are required.